The Breakout Room feature allows participants to collaborate in smaller groups within the same meeting, but in separate sessions.  Students can work on assignments, colleagues can work on business issues.  
The host chooses to split particpants into the separate sessions automatically,
or select particpants for each room.
Particpants can be moved between Breakout Room sessions at any time.
The host can move between the Breakout Rooms to monitor activity.
Up to 50 Breakout Rooms can be created.
Participants have full audio, video, and share screen capability.

Enable Breakout Room
1. Sign in to your account on the webiste portal at www.conferzoom.org 
2. Navigate to 'Meeting Settings' then to '(In Meeting) Advanced'
3. Enable 'Breakout Room' option.
Note: When the feature is enabled, it applies to all meetings.

Create Breakout Rooms 
When 'Breakout room' is enabled, an icon will appear on the meeting toolbar. The rooms are not active until the host opens the rooms.  Below describes the steps to assign particpants to rooms, select options, and then open the rooms when ready.
1. Click on the 'Breakout Rooms' icon.
2. In the open dialogue box choose your options, then click 'Create Rooms'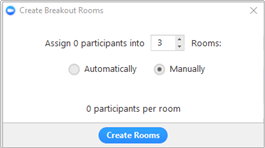 3. A new dialogue box opens with additional options.
Assign Participants to Rooms
If you chose to 'Manually' assign participants, select 'Assign' next to the room.  Participants not assigned to a Breakout Room will remain in the Main room.
Click 'Assign' then choose the particpants from the list.

After assigning manually, or automatically, a numeric will appear to indicate how many participants are assigned to the room.
 
Prepare Breakout Rooms
Timing Options:

Move or Exchange Participants 
1. Open the 'Breakout Rooms' icon on the toolbar.
2. Select the participant then 'Move to' and choose a different room.
3. Select 'Exchange' to swap with a participant in a different room.
Open the Breakout Rooms
Select the 'Breakout Rooms' icon on the toolbar. In the dialogue box 'Open All Rooms'.
Participants are moved into the Breakout Room after confirming the message prompt to join. The host remains in the main room; the host can move into and between rooms.
After clicking 'Join' the following message appears.
Managing Breakout Rooms in Progress
The host can enter any Breakout Room by clicking the 'Join' link.
Particpants who have not accepted the invitation to join the Breakout Room are identified.
Sessions can be stopped earlier than the scheduled time.
Participants can ask for help while in a Breakout Room by clicking the 'Ask for Help' button on the toolbar.
The host will receive a message, and can join the room where help was requested.

Broadcast a Message to All Breakout Rooms
1. Click the 'Breakout Rooms' icon on the tool bar.
2. In the open dialogue box select 'Broadcast a message to all', then enter your message.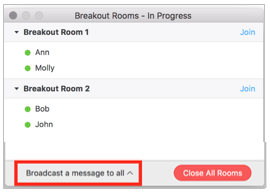 Particpants will receive the message in a pop-up dialogue box.

Delete, Recreate, Add Rooms