Chat allows hosts and participants to communicate in a live session without interrupting the presentation. Chat is a useful feature that allows messages to be shared with the entire group or selected individuals.
The host grants permission through their account settings or on a per meeting basis while in the live meeting on how and to whom the chat messages can be sent. Chat messages can be saved depending on the features enabled by the host.
Account Settings
Log into your account at https://www.conferzoom.org/.
Click on Settings
Click on the Meeting tab.
Select In Meeting (Basic) to get to the chat section.

Enable the chat options you wish to use in your meeting.

In a Meeting
In a live meeting, click on the Chat icon located on the bottom toolbar to open the chat window. If you do not see the chat icon on the menu, look under More. At the bottom of the chat window, select the three dots to open the drop-down menu and make your selections.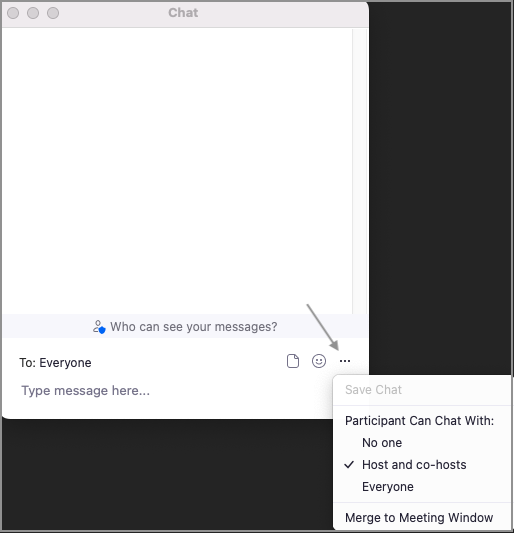 Chat messages can be sent based on the selections made from the more menu as shown above.
The host can also send chat messages to the participants in the waiting room.
Chat Files
In-meeting chats can be saved to your computer or the Zoom Cloud either manually or automatically. If you save the chat locally to your computer, it will save any chats that you can see—those sent directly to you and those sent to everyone in the meeting or webinar. If you save the chat to the cloud, it will only save chats that were sent to everyone and messages sent while you were cloud recording.
For complete information on saving and locating chat files, see Zoom's article: https://support.zoom.us/hc/en-us/articles/115004792763-Saving-in-meeting-chat.