Updated: 03-16-21 (dmg)
Prevent uninvited participants from disrupting your meeting room by stopping them at the door with a few simple changes to your account settings.

The uninvited participant joins using a link that was shared, or entered random numbers and found a live meeting with the same meeting ID.
It is highly recommended that you DO NOT share your meeting links on social media.

Changing your account settings prior to scheduling meetings either from Canvas or outside of Canvas.
Setting changes can also manage a participant who was invited, but then became disruptive.
Sign into your account on conferzoom.org.
Go to 'Settings' on the left navigation menu.
Select the 'Meetings' tab.
Scroll down the list to identify the settings described below; change each setting as appropriate.
The settings are applied at a default level to all of your meetings when they are scheduled.
Setting changes will not apply to meetings that have already been scheduled.

Reschedule the meeting if it is important to have these settings apply to your meetings.
New!
The Security icon was added to live meetings on April 8, 2020 to quickly take action to prevent meeting disruptions. We recommend updating your account settings which will become your default settings when scheduling meetings.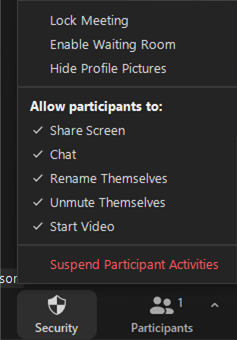 Options within the live meeting; some options can be set as default in your account settings:
1. Lock the Meeting: Prevent anyone else from joining, especially if you are using the Waiting Room.
2. Enable the Waiting Room: If not a selected option when meeting was scheduled.
3. Hide Profile Pictures: Inappropriate or distracting images.
4. Report: Notify Zoom's Trust and Safety team. You will be able to select which user to report and
provide details about the problem. You can also upload evidence, such as screenshots.
5. Allow Participants to: Select options for participants.
6. Suspend Participant Activities: Immediately suspend all participant activities, which will mute all video
and audio, stop screen sharing, end all breakout rooms, and pause recording.

Remove Participant from the Meeting:
1. Click on Participant list
2. Select the More menu next to the participant name
3. Select Remove Participants
Participant cannot re-join unless 'Allow removed participants to rejoin' is enabled in your
account Meeting Settings.

Establish Default Account Settings for All Meetings
Please note the settings will only apply to new meetings, not previously scheduled meetings.
'Use Personal Meeting ID' – Disable
This is a persistent ID that can be accessed at any time, regardless of scheduled times.


'Require a Password' - Enable. If you are scheduling and hosting outside of Canvas.
Scheduling and hosting from within Canvas does not need a password. Validation is already
in place when the student is enrolled in the course, and joins.
'Mute participants upon entry' - Enable. Participants can turn on their mics when in the meeting.
You have an option to 'Mute all', then choose do not allow participants to unmute themselves.


'Play sound when participants join or leave' - This is a personal preference.


'Allow removed participants to rejoin' - Disable. Remove a participant from the meeting.
Hover over the name, then select 'Remove' from the 'More' menu. Attendees can also be removed from the 'Waiting Room'.


'Allow participants to rename themselves' - Personal preference to stop or allow participants from changing the screen name that appears in the meeting.


'Hide participant profile pictures in a meeting' - when inappropriate or distracting images are used for a profile picture.


'Waiting Room' – Enable. Participants are held in a separate holding area until the host admits them one at a time, or all at once. Participants can be moved back into the Waiting Room from the Main Room. The Waiting Room screen can be customized to assure attendees they are in the right place.