Select your Course > Assignments (on left of dashboard) > +Assignment (top right) > Submission Type > External Tool > Enter External Tool URL (find) PlayPosit > Enter PlayPosit > In My Bulbs > Click Add New Bulb to access Enter the Designer.
Select your video source such as 3C Media, insert the video URL, then click Done.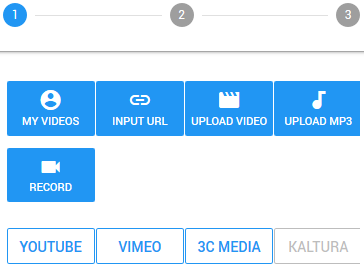 From the new page Video Segments, Interactions & Review > select Add an Interactions
When you're done adding your interaction's text & answer options, click Done to save, or click Customize to place your interaction on the sidebar or in a hotspot overlay. You can set all interaction types to appear in either the sidebar or a video overlay, more commonly referred to as a "hotspot". This is supported for all interaction types.
You can make the sidebar appear in any part of the screen. By going to advanced settings, you can fine tune even more properties. You can set the time for how long you want the interaction to appear by selecting the edit option after expanding the ellipsis icon.
From the interaction question, select Edit > Customize > Timing.
Move the green and red slider to set the time limit for the question. Then select Done. You will Review or Preview your work, then Save.
Embed images, audio, equations and tables
You can use the rich text editor to add images, audio, equations, tables, links, and more to any interaction, with the exception of web embeds. You access this function by clicking in any editable text area. The rich text editor toolbar appears. Click the triple dots icon on the toolbar to expand it and show even more options for formatting your interaction.
Jumps
If a learner selects a specific answer, or if they get a question right or wrong, you can jump the learner to a different point of the video.
To add a jump to specific answer options (multiple choice, polling survey):
Click the gear icon next to the specific answer option and select Add Jump.
Drag the slider or type in a specific timestamp.
Click Done to save and exit the interaction dialog.