Zoom keyboard shortcuts let you navigate Zoom settings without using your mouse. They are available in your Zoom desktop client settings under Keyboard Shortcuts, and you can view and edit keyboard shortcuts. The shortcuts work in both Windows and Mac and are described in this article.
To view keyboard shortcuts on your desktop app, click the home tab and then the Settings icon:
Click on the Keyboard Shortcuts tab on the let navigation menu.
Editing shortcuts
You can edit a shortcut by clicking on the shortcut and then pressing the shortcut key that you would like to use. You can undo this procedure by selecting restore default.
Some of the shortcuts can be used as global shortcuts, meaning they will work even when Zoom is not in focus. To enable a shortcut globally, check the option next to the shortcut.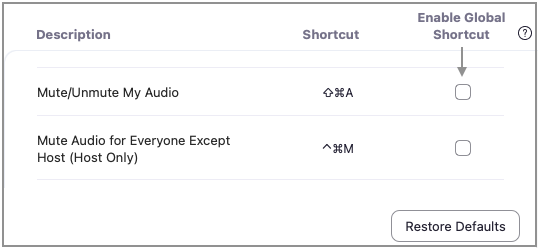 A complete list of keyboard shortcuts including Chat and Phone shortcuts, can be found here: https://support.zoom.us/hc/en-us/articles/205683899-Hot-keys-and-keyboard-shortcuts